About
Peggy Journey Campbell, Stained Glass Artist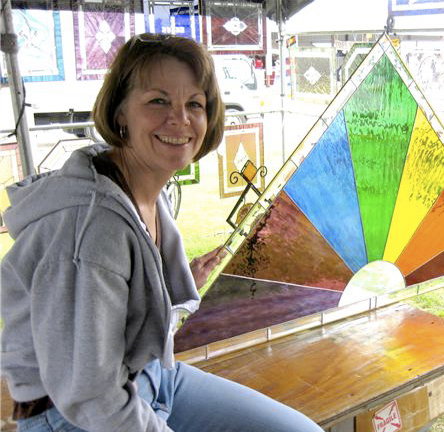 Artist Peggy Journey Campbell began her stained glass career as a hobby in 1986. Her hobby was short lived as she taught her husband Robert Journey the craft, and by 1988, it became a thriving business aptly named Glass Journey.
Initially, they opened a studio in the front of their home on top of Boston Mountain in Arkansas.  In 1990 they moved their family and successful business back to their home state of New Mexico, and sold their artwork at the Santa Fe Flea Market.  They had also discovered a Flea Market in Canton, Texas, that was proving to offer an even bigger spectrum of "custom" work to their portfolio.  So, in 1997 they moved their family and business to Stamford, Texas, where they set up both home and studio and made their booth at First Monday Trade Days in Canton, Texas, their permanent store front every month for the next 17 years.  Their Son Harlen was brought on board in 2001 to help with the growing business.  Sadly, Robert passed away in 2007.  Peggy and Harlen continued designing stained glass together and operating their Canton store front until June of 2014.
Peggy continues to let her creativity flow through her pieces.  She welcomes commissioned work and loves creating one of a kind pieces.  The sky is the limit and she loves the challenge!  She plans to offer her artwork for sale at select venues in the near future.
The Design Process
Working from her imagination—or from artwork, photographs, line drawings, or verbal descriptions—Peggy begins by drawing the design to scale on paper. For commissioned pieces, she sends a picture of the design to the client and works with them to refine both the design and the glass choices.
After the pattern is prepared, the design is cut out of the chosen glass color while mindfully optimizing the nuance of the grain in each piece. Once the pieces are all cut, they are all wrapped in copper foil.  The artwork is then soldered on both sides and brass came placed and soldered onto the outside edges to provide additional strength and ensure stability.
| | |
| --- | --- |
| NOTE: | Glass Journey does not use lead came in the production of any stained glass products. |